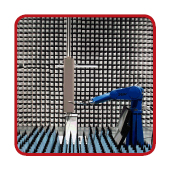 Electrical safety and protection against hazards of electromagnetic are subjects of the
R&TTE-Directive
. They are an integral part of the requirement for
CE marking
, and must be evaluated for approval.
Evaluation is carried out by:
Examination

of the device by experts, based on the given specifications

Calculation

of electromagnetic fields and intensities in connection with body models
Measurement

of limit quantities (power, field strength, and SAR measurement) by a qualified laboratory

We offer test and consulting services to manufacturers and distributors of electrical devices at any stage of product design from initial development to final approval. The IMST Test Centre develops and validates protection and safety features, for RFID read/write systems or electronic article surveillance (EAS) systems to defined safety distances for occupational and workers health protection.
Our services cover the entire range of basic restriction quantities (current density, specific absorption rate) as well as the associated reference levels (electrical field strength, magnetic field strength, magnetic flux density). As an example of our recent work, scientific studies have been carried out to document the coupling and mutual interferences between active implants and transmitting telecommunication devices. Furthermore, calculations have been performed using realistic and digitised body models of different genders and ages.
Additionally, calculations give an overview of the SAR values and current densities, regardless of dimensions, from small RFID tags up to transmission coils for magnetic resonance imaging or resistance-welding systems.