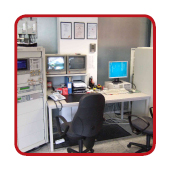 The "CE" mark is the accepted standard for product safety. This statement is based on a declaration by the manufacturer, but a third-party evaluation is recommended to enhance customer confidence about a limited product liability.
To meet your product needs, IMST offers the following test categories:
EMC – electromagnetic compliance
EMCEA/SAR testing – electromagnetic safety for users
Effective use of the frequency spectrum, per R&TTE, ETSI, CENELEC and others

Product-related directives: R&TTE, automotive

Radiation characteristics of antennas, e.g. over-the-air performance according to OTA
Tests of ambient conditions, including temperature, humidity, and vibration

As a useful hint to developers: To keep costs down, exact and timely information about certification requirements is required at the earliest stage of a development schedule. Thus, a sufficient assistance on regulation, standardisation and regulatory affairs will be quite helpful as well.
You can rely on us! Benefit from our history of success!