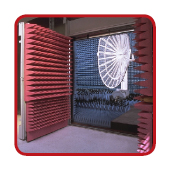 Our Test Centre offers a complete range of testing and measuring services, for example, certification according to the CE/EMC Directive as well as measurement of cell phone SAR. Testing procedures are carried out in accordance with national, European, and international directives and standards. We also cover a wide range of measurements for verifying the performance of RF materials, antennas, circuits, and even entire systems (e.g. ISM, GSM/UMTS).
In addition to device-related characterisation and measurements for certification, we validate the safety of electric, magnetic and electromagnetic fields in compliance with 26th BImSchV, BGV/BGR B11 (Germany) and other guidelines for occupational health and safety. Our Test Centre maintains the highest standards and offers you prompt service, even for specially customised tests.
Our independent, testing laboratories are certified according to DIN EN ISO 9001:2015 and DIN EN ISO/IEC 17025:2018, and recognised by national bodies like Kraftfahrt-Bundesamt (German Federal Motor Transport Authority). Our SAR testing laboratory is recognized by BNetzA according to FCC- and ISED-rules for this specific area. As an independent testing laboratory, we are also qualified to test mobile terminal devices for network operators and handset manufacturers.
In the unlikely case that we cannot offer the right test service for you, we can connect you with a qualified Test Centre in our network of affiliates.
Your clear advantages with us:
Just one contact person for all services
Cost-effectiveness
Assistance with problems

operating

successfully

since 1997



We look forward to assisting you!
Yours sincerely,
IMST Test Center