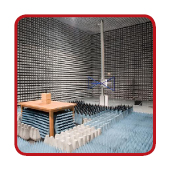 Complete service is what makes us stand out! We offer comprehensive test and consulting services for electromagnetic compatibility (EMC) to manufacturers of devices, machines, and systems, from early-stage development to product certification. As an accredited EMC test laboratory, we offer these services for a wide range of electrical products and devices. Our services include:
Identification of test requirements
Support and clarification of applicable standards
Execution and documentation of required tests
EMC hardening, especially during EMC testing
Consulting on EMC-compliant product developments
Testing in parallel with development or/and consulting, and as special support during development
EMC scans of PCBs and ICs

Infobox/Norm:

Equipment & Products:
2004/108/EC
Germany: EMC Act (EMVG)

United States: FCC, e.g. part 15, part 18, ...

Machinery Equipment:
2006/42/EC