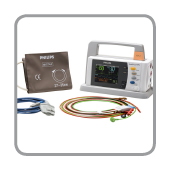 Monitor equipped with wireless
technology (Source: Philips)
Information and communication technologies have become an essential part of the medical device industry. One significant innovation driving development is wireless transmission of medical data. Replacing cables in intensive care areas increases safety and fexibility, makes devices more robust against accidental damage, and ensures reliable data transmission even in challenging environments. Another promising area of wireless solutions is the use of wide-area communications such as WLAN and GSM/UMTS in home care, rehabilitation, and ambient assisted living; this will improve the effectiveness of health care, and enhance patient's quality of life.
In partnership with such leading manufacturers of medical equipment such as Philips and Smiths Medical Deutschland GmbH, IMST has developed wireless solutions using technologies like BluetoothTM for applications that include intensive care units and home care. By being part of the project from the very beginningt - from feasibility studies to system design, hard- and software design, implementation, certification and documentation - we lead the way in integrating wireless technologies in existing medical products.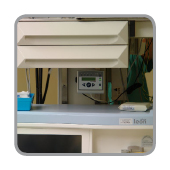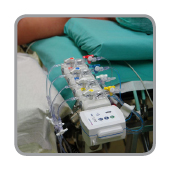 SmartX Receiver unit SmartX Transmitter unit