Our strength is customised antenna design -- for sensors, remote control systems, mobile phones, complex communication systems, and automotive applications. Over the years we have developed a comprehensive package of antenna services for mobile and cellular devices that meet industry standards such as GSM, EDGE, UMTS, LTE, WiMAX, Bluetooth, WLAN, UWB and ISM and more.
IMST offers: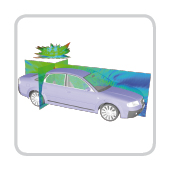 Concept Studies and Antenna Consulting
RF and Antenna Measurements
CE, EMC and SAR Certification
We design multiband antennas for wireless devices and mobile communications, including diversity and MIMO technologies. Our extensive know-how and powerful simulation tools enable us to optimise antenna designs -- by taking into account the specific shape of mobile phone devices, for example, or the effects of parts near the antenna. We can even analyse and compensate for the effects of the user's presence on antenna performance.
We support you with: