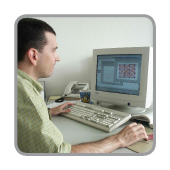 Our designs are the result of a logical and transparent process. Most assignments involve the interdisciplinary development of RF, baseband and software elements. We strictly document and update specifications, so that we can meet your project requirements.

Our team will review your specifications, derive any missing ones, and create a final set to serve as the foundation for the development process. We select the tools and technologies that meet your functional, operational, performance—and budget-- requirements.

Periodic reviews, system verification and validation ensure that your project remains on track. As appropriate, we carry out simulations and build prototypes to validate a design via modelling, measurements and functionality tests.

IMST has state-of-the-art simulation and implementation tools, along with the necessary laboratory equipment. All of these assets are integrated under a common development agreement and create a comprehensive project infrastructure.