Complex antenna system development is one of our major strengths. Our designers have worked for decades with systems ranging fom a small number of transmitters and receivers to very large arrays with hundreds of reception and transmission channels. We bring a uniquly effective approach to problem solving based on our experience with both industrial development and innovative research.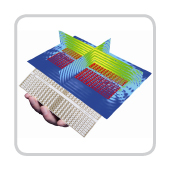 IMST provides:
State-of-the art antenna concepts
Fast and accurate EM simulations, taking into account the entire antenna frontend
Different technological solutions (PTFE substrates, LTCC, MID), including small volume prototyping
Near field and far field measurements
We can give you a complete development chain with cost-efficient, cutting-edge solutions adapted to your needs Our FDTD-based EM field solver, EmpireTM, allows us to accurately simulate and optimize the complete RF frontend, including feeding networks, mechanical parts, and radomes. We manufacture prototypes in-house or with the assistance of our suppliers, using soft substrates (PTFE), ceramics (LTCC), or metallized plastic injected moulds. Finally, we characterize the performance of our antenna systems in our accredited measurement facilities.